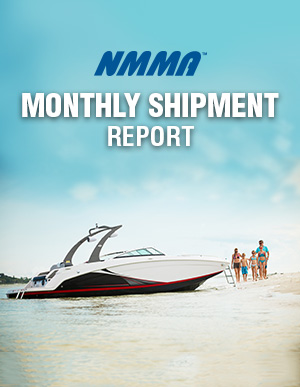 Preview Report
MSR/Monthly Shipment Report
The Monthly Shipment Report tracks industry wholesale shipments of outboard motors and boats, sterndrive and inboard motors and boats, personal watercraft, jet boats, inflatable boats and boat trailers. The report includes current month, year-to-date, and prior year comparisons of unit shipments and factory value by hull material, length and boat type.
The MSR is available as an annual subscription (twelve issues) and includes access to the New Powerboat Registrations data. Individual reports are also available for purchase.
Control Group Participants: To submit your data, please select one of the following.
2023
January
| | |
| --- | --- |
| | |
| January 2023 MSR Full Report | Available |
| January 2023 MSR Wholesale Outboard Engines | Available |
| January 2023 MSR Personal Watercraft | Available |
| January 2023 MSR Jet Boats | Available |
| January 2023 MSR Aluminum Outboard Boats | Available |
| January 2023 MSR Fiberglass Outboard Boats | Available |
| January 2023 MSR Inboard Boats | Available |
| January 2023 MSR Fiberglass Sterndrive Boats | Available |
| January 2023 MSR Boat Trailers | Available |
February
| | |
| --- | --- |
| | |
| February 2023 MSR Full Report | Available |
| February 2023 MSR Wholesale Outboard Engines | Available |
| February 2023 MSR Personal Watercrafts | Available |
| February 2023 MSR Jet Boats | Available |
| February 2023 MSR Aluminum Outboard Boats | Available |
| February 2023 MSR Fiberglass Outboard Boats | Available |
| February 2023 MSR Fiberglass Sterndrive Boats | Available |
| February 2023 MSR Boat Trailers | Available |
| February 2023 MSR Inflatables | Available |
March
| | |
| --- | --- |
| | |
| March 2023 MSR Full Report | Available |
| March 2023 MSR Wholesale Outboard Engines | Available |
| March 2023 MSR Personal Watercrafts | Available |
| | Available |
| March 2023 MSR Aluminum Outboard Boats | Available |
| March 2023 MSR Fiberglass Outboard Boats | Available |
| March 2023 MSR Inboard Boats | Available |
| March 2023 MSR Fiberglass Sterndrive Boats | Available |
| March 2023 MSR Boat Trailers | Available |
April
| | |
| --- | --- |
| | |
| April 2023 MSR Full Report | Available |
| April 2023 MSR Wholesale Outboard Engines | Available |
| April 2023 MSR Personal Watercrafts | Available |
| April 2023 MSR Jet Boats | Available |
| April 2023 MSR Aluminum Outboard Boats | Available |
| April 2023 MSR Fiberglass Outboard Boats | Available |
| April 2023 MSR Inboard Boats | Available |
| April 2023 MSR Fiberglass Sterndrive Boats | Available |
| April 2023 MSR Boat Trailers | Available |
May
| | |
| --- | --- |
| | |
| May 2023 MSR Wholesale Outboard Engines | Available |
| May 2023 MSR Personal Watercrafts | Available |
| May 2023 MSR Jet Boats | Available |
| May 2023 MSR Fiberglass Sterndrive Boats | Available |
| May 2023 MSR Aluminum Outboard Boats | Available |
| May 2023 MSR Inboard Boats | Available |
| May 2023 MSR Fiberglass Outboard Boats | Available |
| May 2023 MSR Boat Trailers | Available |
June
| | |
| --- | --- |
| | |
| June 2023 MSR Full Report | Available |
| June 2023 MSR Wholesale Outboard Engines | Available |
| June 2023 MSR Personal Watercrafts | Available |
| June 2023 MSR Jet Boats | Available |
| June 2023 MSR Fiberglass Sterndrive Boats | Available |
| June 2023 MSR Aluminum Outboard Boats | Available |
| June 2023 MSR Inboard Boats | Available |
| June 2023 MSR Fiberglass Outboard Boats | Available |
| June 2023 MSR Boat Trailers | Available |
July
| | |
| --- | --- |
| | |
| July 2023 MSR Wholesale Outboard Engines | Available |
| July 2023 MSR Personal Watercrafts | Available |
| July 2023 MSR Jet Boats | Available |
| July 2023 MSR Fiberglass Sterndrive Boats | Available |
| July 2023 MSR Aluminum Outboard Boats | Available |
| July 2023 MSR Inboard Boats | Available |
| July 2023 MSR Fiberglass Outboard Boats | Available |
August
| | |
| --- | --- |
| | |
| August 2023 MSR Full Report | Available |
| August 2023 MSR Outboard Engines | Available |
| August 2023 MSR Personal Watercraft | Available |
| August 2023 MSR Jet Boats | Available |
| August 2023 MSR Fiberglass Sterndrive Boats | Available |
| August 2023 MSR Aluminum Outboard Boats | Available |
| August 2023 MSR Inboard Boats | Available |
| August 2023 MSR Fiberglass Outboard Boats | Available |
| August 2023 MSR Boat Trailers | Available |
September
| | |
| --- | --- |
| | |
| September 2023 MSR Full Report | Available |
| September 2023 MSR Wholesale Outboard Engines | Available |
| September 2023 MSR Personal Watercraft | Available |
| September 2023 MSR Jet Boats | Available |
| September 2023 MSR Fiberglass Sterndrive Boats | Available |
| September 2023 MSR Aluminum Outboard Boats | Available |
| September 2023 MSR Inboard Boats | Available |
| September 2023 MSR Fiberglass Outboard Boats | Available |
| September 2023 MSR Boat Trailers | Available |
October
| | |
| --- | --- |
| | |
| October 2023 MSR Wholesale Outboard Engines | Available |
| October 2023 MSR Jet Boats | Available |
| October 2023 MSR Fiberglass Sterndrive Boats | Available |
| October 2023 MSR Aluminum Outboard Boats | Available |
| October 2023 MSR Inboard Boats | Available |
| October 2023 MSR Boat Trailers | Available |
2022
January
| | |
| --- | --- |
| | |
| January 2022 MSR Full Report | Available |
| January 2022 MSR Wholesale Outboard Engines | Available |
| January 2022 MSR Personal Watercraft | Available |
| January 2022 MSR Jet Boats | Available |
| January 2022 MSR Aluminum Outboard Boats | Available |
| January 2022 MSR Fiberglass Outboard Boats | Available |
| January 2022 MSR Fiberglass Sterndrive Boats | Available |
| January 2022 MSR Inboard Boats | Available |
| January 2022 MSR Boat Trailers | Available |
| January 2022 MSR Inflatable | Available |
February
| | |
| --- | --- |
| | |
| February 2022 MSR Full Report | Available |
| Febuary 2022 MSR Wholesale Outboard Engines | Available |
| Febuary 2022 MSR Personal Watercraft | Available |
| February 2022 MSR Jet Boats | Available |
| February 2022 MSR Aluminum Outboard Boats | Available |
| February 2022 MSR Fiberglass Outboard Boats | Available |
| February 2022 MSR Fiberglass Sterndrive Boats | Available |
| February 2022 MSR Inboard Boats | Available |
| February 2022 MSR Boat Trailers | Available |
| February 2022 MSR Inflatable | Available |
March
| | |
| --- | --- |
| | |
| March 2022 MSR Full Report | Available |
| March 2022 MSR Jet Boats | Available |
| March 2022 MSR Aluminum Outboard Boats | Available |
| March 2022 MSR Fiberglass Outboard Boats | Available |
| March 2022 MSR Fiberglass Sterndrive Boats | Available |
| March 2022 MSR Inboard Boats | Available |
| March 2022 MSR Boat Trailers | Available |
| March 2022 MSR Inflatable | Available |
April
| | |
| --- | --- |
| | |
| April 2022 MSR Full Report | Available |
| April 2022 MSR Wholesale Outboard Engines | Available |
| April 2022 MSR Personal Watercraft | Available |
| April 2022 MSR Jet Boats | Available |
| April 2022 MSR Aluminum Outboard Boats | Available |
| April 2022 MSR Fiberglass Outboard Boats | Available |
| April 2022 MSR Fiberglass Sterndrive Boats | Available |
| April 2022 MSR Inboard Boats | Available |
| April 2022 MSR Boat Trailers | Available |
| April 2022 MSR Inflatable | Available |
May
| | |
| --- | --- |
| | |
| May 2022 MSR Full Report | Available |
| May 2022 MSR Wholesale Outboard Engines | Available |
| May 2022 MSR Personal Watercraft | Available |
| May 2022 MSR Jet Boats | Available |
| May 2022 MSR Aluminum Outboard Boats | Available |
| May 2022 MSR Fiberglass Outboard Boats | Available |
| May 2022 MSR Fiberglass Sterndrive Boats | Available |
| May 2022 MSR Inboard Boats | Available |
| May 2022 MSR Boat Trailers | Available |
| May 2022 MSR Inflatable | Available |
June
| | |
| --- | --- |
| | |
| June 2022 MSR Full Report | Available |
| June 2022 MSR Wholesale Outboard Engines | Available |
| June 2022 MSR Personal Watercraft | Available |
| June 2022 MSR Jet Boats | Available |
| June 2022 MSR Aluminum Outboard Boats | Available |
| June 2022 MSR Fiberglass Outboard Boats | Available |
| June 2022 MSR Fiberglass Sterndrive Boats | Available |
| June 2022 MSR Inboard Boats | Available |
| June 2022 MSR Boat Trailers | Available |
| June 2022 MSR Inflatables | Available |
July
| | |
| --- | --- |
| | |
| July 2022 MSR Full Report | Available |
| July 2022 MSR Wholesale Outboard Engines | Available |
| July 2022 MSR Personal Watercraft | Available |
| July 2022 MSR Jet Boats | Available |
| July 2022 MSR Aluminum Outboard Boats | Available |
| July 2022 MSR Fiberglass Outboard Boats | Available |
| July 2022 MSR Inboard Boats | Available |
| July 2022 MSR Fiberglass Sterndrive Boats | Available |
| July 2022 MSR Boat Trailers | Available |
| July 2022 MSR Inflatables | Available |
August
| | |
| --- | --- |
| | |
| August 2022 MSR Full Report | Available |
| August 2022 MSR Wholesale Outboard Engines | Available |
| August 2022 MSR Personal Watercraft | Available |
| August 2022 MSR Jet Boats | Available |
| August 2022 MSR Aluminum Outboard Boats | Available |
| August 2022 MSR Fiberglass Outboard Boats | Available |
| August 2022 MSR Inboard Boats | Available |
| August 2022 MSR Fiberglass Sterndrive Boats | Available |
| August 2022 MSR Boat Trailers | Available |
| August 2022 MSR Inflatable | Available |
September
| | |
| --- | --- |
| | |
| September 2022 MSR Full Report | Available |
| September 2022 MSR Wholesale Outboard Engines | Available |
| September 2022 MSR Personal Watercraft | Available |
| September 2022 MSR Jet Boats | Available |
| September 2022 MSR Aluminum Outboard Boats | Available |
| September 2022 MSR Fiberglass Outboard Boats | Available |
| September 2022 MSR Inboard Boats | Available |
| September 2022 MSR Fiberglass Sterndrive Boats | Available |
| September 2022 MSR Boat Trailers | Available |
| September 2022 MSR Inflatable | Available |
October
| | |
| --- | --- |
| | |
| October 2022 MSR Full Report | Available |
| October 2022 MSR Wholesale Outboard Engines | Available |
| October 2022 MSR Personal Watercraft | Available |
| October 2022 MSR Jet Boats | Available |
| October 2022 MSR Aluminum Outboard Boats | Available |
| October 2022 MSR Fiberglass Outboard Boats | Available |
| October 2022 MSR Inboard Boats | Available |
| October 2022 MSR Fiberglass Sterndrive Boats | Available |
| October 2022 MSR Boat Trailers | Available |
| October 2022 MSR Inflatables | Available |
November
| | |
| --- | --- |
| | |
| November 2022 MSR Full Report | Available |
| November 2022 MSR Wholesale Outboard Engines | Available |
| November 2022 MSR Personal Watercraft | Available |
| November 2022 MSR Jet Boats | Available |
| November 2022 MSR Aluminum Outboard Boats | Available |
| November 2022 MSR Fiberglass Outboard Boats | Available |
| November 2022 MSR Inboard Boats | Available |
| November 2022 MSR Fiberglass Sterndrive Boats | Available |
| November 2022 MSR Boat Trailers | Available |
| November 2022 MSR Inflatables | Available |
December
| | |
| --- | --- |
| | |
| December 2022 MSR Full Report | Available |
| December 2022 MSR Wholesale Outboard Engines | Available |
| December 2022 MSR Personal Watercraft | Available |
| December 2022 MSR Jet Boats | Available |
| December 2022 MSR Aluminum Outboard Boats | Available |
| December 2022 MSR Fiberglass Outboard Boats | Available |
| December 2022 MSR Inboard Boats | Available |
| December 2022 MSR Fiberglass Sterndrive Boats | Available |
| December 2022 MSR Boat Trailers | Available |
| December 2022 MSR Inflatable | Available |
2021
January
| | |
| --- | --- |
| | |
| January 2021 MSR Full Report | Available |
| January 2021 MSR Full Report | Available |
| January 2021 MSR Outboard Engines | Available |
| January 2021 MSR Personal Watercraft | Available |
| January 2021 MSR Jet Boats | Available |
| January 2021 MSR Aluminum Outboard Boats | Available |
| January 2021 MSR Fiberglass Outboard Boats | Available |
| January 2021 MSR Fiberglass Sterndrive Boats | Available |
| January 2021 MSR Inboard Boats | Available |
| January 2021 MSR Boat Trailers | Available |
| January 2021 MSR Inflatables | Available |
February
| | |
| --- | --- |
| | |
| February 2021 MSR Full Report | Available |
| February 2021 MSR Full Report | Available |
| February 2021 MSR Outboard Engines | Available |
| February 2021 MSR Personal Watercraft | Available |
| February 2021 MSR Jet Boats | Available |
| February 2021 MSR Aluminum Outboard Boats | Available |
| February 2021 MSR Fiberglass Outboard Boats | Available |
| February 2021 MSR Fiberglass Sterndrive Boats | Available |
| February 2021 MSR Inboard Boats | Available |
| February 2021 MSR Boat Trailers | Available |
| February 2021 MSR Inflatables | Available |
March
| | |
| --- | --- |
| | |
| March 2021 MSR Full Report | Available |
| March 2021 MSR Full Report | Available |
| March 2021 MSR Outboard Engines | Available |
| March 2022 MSR Wholesale Outboard Engines | Available |
| March 2021 MSR Personal Watercraft | Available |
| March 2022 MSR Personal Watercraft | Available |
| March 2021 MSR Jet Boats | Available |
| March 2021 MSR Aluminum Outboard Boats | Available |
| March 2021 MSR Fiberglass Outboard Boats | Available |
| March 2021 MSR Fiberglass Sterndrive Boats | Available |
| March 2021 MSR Inboard Boats | Available |
| March 2021 MSR Boat Trailers | Available |
| March 2021 MSR Inflatables | Available |
April
| | |
| --- | --- |
| | |
| April 2021 MSR Full Report | Available |
| April 2021 MSR Full Report | Available |
| April 2021 MSR Outboard Engines | Available |
| April 2021 MSR Personal Watercraft | Available |
| April 2021 MSR Jet Boats | Available |
| April 2021 MSR Aluminum Outboard Boats | Available |
| April 2021 MSR Fiberglass Outboard Boats | Available |
| April 2021 MSR Fiberglass Sterndrive Boats | Available |
| April 2021 MSR Inboard Boats | Available |
| April 2021 MSR Boat Trailers | Available |
| April 2021 MSR Inflatables | Available |
May
| | |
| --- | --- |
| | |
| May 2021 MSR Full Report | Available |
| May 2021 MSR Full Report | Available |
| May 2021 MSR Outboard Engines | Available |
| May 2021 MSR Personal Watercraft | Available |
| May 2021 MSR Jet Boats | Available |
| May 2021 MSR Aluminum Outboard Boats | Available |
| May 2021 MSR Fiberglass Outboard Boats | Available |
| May 2021 MSR Fiberglass Sterndrive Boats | Available |
| May 2021 MSR Inboard Boats | Available |
| May 2021 MSR Boat Trailers | Available |
| May 2021 MSR Inflatables | Available |
June
| | |
| --- | --- |
| | |
| June 2021 MSR Full Report | Available |
| June 2021 MSR Outboard Engines | Available |
| June 2021 MSR Personal Watercraft | Available |
| June 2021 MSR Jet Boats | Available |
| June 2021 MSR Aluminum Outboard Boats | Available |
| June 2021 MSR Fiberglass Outboard Boats | Available |
| June 2021 MSR Fiberglass Sterndrive Boats | Available |
| June 2021 MSR Inboard Boats | Available |
| June 2021 MSR Boat Trailers | Available |
| June 2021 MSR Inflatable | Available |
July
| | |
| --- | --- |
| | |
| July 2021 MSR Full Report | Available |
| July 2021 MSR Outboard Engines | Available |
| July 2021 MSR Personal Watercraft | Available |
| July 2021 MSR Jet Boats | Available |
| July 2021 MSR Aluminum Outboard Boats | Available |
| July 2021 MSR Fiberglass Outboard Boats | Available |
| July 2021 MSR Fiberglass Sterndrive Boats | Available |
| July 2021 MSR Inboard Boats | Available |
| July 2021 MSR Boat Trailers | Available |
| July 2021 MSR Inflatable | Available |
August
| | |
| --- | --- |
| | |
| | Available |
| August 2021 MSR Wholesale Outboard Engines | Available |
| August 2021 MSR Personal Watercraft | Available |
| August 2021 MSR Jet Boats | Available |
| August 2021 MSR Aluminum Outboard Boats | Available |
| August 2021 MSR Fiberglass Outboard Boats | Available |
| August 2021 MSR Fiberglass Sterndrive Boats | Available |
| August 2021 MSR Inboard Boats | Available |
| August 2021 MSR Boat Trailers | Available |
| August 2021 MSR Inflatables | Available |
September
| | |
| --- | --- |
| | |
| September 2021 MSR Full Report | Available |
| September 2021 MSR Outboard Engines | Available |
| September 2021 MSR Personal Watercraft | Available |
| September 2021 MSR Jet Boats | Available |
| September 2021 MSR Aluminum Outboard Boats | Available |
| September 2021 MSR Fiberglass Outboard Boats | Available |
| September 2021 MSR Fiberglass Sterndrive Boats | Available |
| September 2021 MSR Inboard Boats | Available |
| September 2021 MSR Boat Trailers | Available |
| September 2021 MSR Inflatables | Available |
October
| | |
| --- | --- |
| | |
| October 2021 MSR Full Report | Available |
| October 2021 MSR Outboard Engines | Available |
| October 2021 MSR Personal Watercraft | Available |
| October 2021 MSR Jet Boats | Available |
| October 2021 MSR Aluminum Outboard Boats | Available |
| October 2021 MSR Fiberglass Outboard Boats | Available |
| October 2021 MSR Fiberglass Sterndrive Boats | Available |
| October 2021 MSR Inboard Boats | Available |
| October 2021 MSR Boat Trailers | Available |
| October 2021 MSR Inflatables | Available |
November
| | |
| --- | --- |
| | |
| November 2021 MSR Full Report | Available |
| November 2021 MSR Outboard Engines | Available |
| November 2021 MSR Personal Watercraft | Available |
| November 2021 MSR Jet Boats | Available |
| November 2021 MSR Aluminum Outboard Boats | Available |
| November 2021 MSR Fiberglass Outboard Boats | Available |
| November 2021 MSR Fiberglass Sterndrive Boats | Available |
| November 2021 MSR Inboard Boats | Available |
| November 2021 MSR Boat Trailers | Available |
| November 2021 MSR Inflatables | Available |
December
| | |
| --- | --- |
| | |
| December 2021 MSR Full Report | Available |
| December 2021 MSR Outboard Engines | Available |
| December 2021 MSR Personal Watercraft | Available |
| December 2021 MSR Jet Boats | Available |
| December 2021 MSR Aluminum Outboard Boats | Available |
| December 2021 MSR Fiberglass Outboard Boats | Available |
| December 2021 MSR Fiberglass Sterndrive Boats | Available |
| December 2021 MSR Inboard Boats | Available |
| December 2021 MSR Boat Trailers | Available |
| December 2021 MSR Inflatable | Available |
2020
January
| | |
| --- | --- |
| | |
| January 2020 MSR Full Report | Available |
| January 2020 MSR Full Report | Available |
| January 2020 MSR Outboard Engines | Available |
| January 2020 MSR Personal Watercraft | Available |
| January 2020 MSR Jet Boat | Available |
| January 2020 MSR Aluminum Outboard Boats | Available |
| January 2020 MSR Fiberglass Outboard Boats | Available |
| January 2020 MSR Fiberglass Sterndrive Boats | Available |
| January 2020 MSR Inboard Boats | Available |
| January 2020 MSR Boat Trailers | Available |
February
| | |
| --- | --- |
| | |
| February 2020 MSR Full Report | Available |
| February 2020 MSR Full Report | Available |
| February 2020 MSR Outboard Engines | Available |
| February 2020 MSR Personal Watercraft | Available |
| February 2020 MSR Jet Boat | Available |
| February 2020 MSR Aluminum Outboard Boats | Available |
| February 2020 MSR Fiberglass Outboard Boats | Available |
| February 2020 MSR Fiberglass Sterndrive Boats | Available |
| February 2020 MSR Inboard Boats | Available |
| February 2020 MSR Boat Trailers | Available |
March
| | |
| --- | --- |
| | |
| March 2020 MSR Full Report | Available |
| March 2020 MSR Full Report | Available |
| March 2020 MSR Outboard Engines | Available |
| March 2020 MSR Personal Watercraft | Available |
| March 2020 MSR Jet Boat | Available |
| March 2020 MSR Aluminum Outboard Boats | Available |
| March 2020 MSR Fiberglass Outboard Boats | Available |
| March 2020 MSR Fiberglass Sterndrive Boats | Available |
| March 2020 MSR Inboard Boats | Available |
| March 2020 MSR Boat Trailers | Available |
April
| | |
| --- | --- |
| | |
| April 2020 MSR Full Report | Available |
| April 2020 MSR Full Report | Available |
| April 2020 MSR Outboard Engines | Available |
| April 2020 MSR Personal Watercraft | Available |
| April 2020 MSR Jet Boats | Available |
| April 2020 MSR Aluminum Outboard Boats | Available |
| April 2020 MSR Fiberglass Outboard Boats | Available |
| April 2020 MSR Fiberglass Sterndrive Boats | Available |
| April 2020 MSR Inboard Boats | Available |
| April 2020 MSR Boat Trailers | Available |
May
| | |
| --- | --- |
| | |
| May 2020 MSR Full Report | Available |
| May 2020 MSR Full Report | Available |
| May 2020 MSR Outboard Engines | Available |
| May 2020 MSR Personal Watercraft | Available |
| May 2020 MSR Jet Boats | Available |
| May 2020 MSR Aluminum Outboard Boats | Available |
| May 2020 MSR Fiberglass Outboard Boats | Available |
| May 2020 MSR Fiberglass Sterndrive Boats | Available |
| May 2020 MSR Inboard Boats | Available |
| May 2020 MSR Boat Trailers | Available |
June
| | |
| --- | --- |
| | |
| June 2020 MSR Full Report | Available |
| June 2020 MSR Full Report | Available |
| June 2020 MSR Outboard Engines | Available |
| June 2020 MSR Personal Watercraft | Available |
| June 2020 MSR Jet Boats | Available |
| June 2020 MSR Aluminum Outboard Boats | Available |
| June 2020 MSR Fiberglass Outboard Boats | Available |
| June 2020 MSR Fiberglass Sterndrive Boats | Available |
| June 2020 MSR Inboard Boats | Available |
| June 2020 MSR Boat Trailers | Available |
July
| | |
| --- | --- |
| | |
| July 2020 MSR Full Report | Available |
| July 2020 MSR Full Report | Available |
| July 2020 MSR Outboard Engines | Available |
| July 2020 MSR Personal Watercraft | Available |
| July 2020 MSR Jet Boats | Available |
| July 2020 MSR Aluminum Outboard Boats | Available |
| July 2020 MSR Fiberglass Outboard Boats | Available |
| July 2020 MSR Fiberglass Sterndrive Boats | Available |
| July 2020 MSR Inboard Boats | Available |
| July 2020 MSR Boat Trailers | Available |
August
| | |
| --- | --- |
| | |
| August 2020 MSR Full Report | Available |
| August 2020 MSR Full Report | Available |
| August 2020 MSR Outboard Engines | Available |
| August 2020 MSR Personal Watercraft | Available |
| August 2020 MSR Jet Boats | Available |
| August 2020 MSR Aluminum Outboard Boats | Available |
| August 2020 MSR Fiberglass Outboard Boats | Available |
| August 2020 MSR Fiberglass Sterndrive Boats | Available |
| August 2020 MSR Inboard Boats | Available |
| August 2020 MSR Boat Trailers | Available |
September
| | |
| --- | --- |
| | |
| September 2020 MSR Full Report | Available |
| September 2020 MSR Full Report | Available |
| September 2020 MSR Outboard Engines | Available |
| September 2020 MSR Personal Watercraft | Available |
| September 2020 MSR Jet Boats | Available |
| September 2020 MSR Aluminum Outboard Boats | Available |
| September 2020 MSR Fiberglass Outboard Boats | Available |
| September 2020 MSR Fiberglass Sterndrive Boats | Available |
| September 2020 MSR Inboard Boats | Available |
| September 2020 MSR Boat Trailers | Available |
October
| | |
| --- | --- |
| | |
| October 2020 MSR Full Report | Available |
| October 2020 MSR Full Report | Available |
| October 2020 MSR Outboard Engines | Available |
| October 2020 MSR Personal Watercraft | Available |
| October 2020 MSR Jet Boats | Available |
| October 2020 MSR Aluminum Outboard Boats | Available |
| October 2020 MSR Fiberglass Outboard Boats | Available |
| October 2020 MSR Fiberglass Sterndrive Boats | Available |
| October 2020 MSR Inboard Boats | Available |
| October 2020 MSR Boat Trailers | Available |
November
| | |
| --- | --- |
| | |
| November 2020 MSR Full Report | Available |
| November 2020 MSR Full Report | Available |
| November 2020 MSR Outboard Engines | Available |
| November 2020 MSR Personal Watercraft | Available |
| November 2020 MSR Jet Boats | Available |
| November 2020 MSR Aluminum Outboard Boats | Available |
| November 2020 MSR Fiberglass Outboard Boats | Available |
| November 2020 MSR Fiberglass Sterndrive Boats | Available |
| November 2020 MSR Inboard Boats | Available |
| November 2020 MSR Boat Trailers | Available |
December
| | |
| --- | --- |
| | |
| December 2020 MSR Full Report | Available |
| December 2020 MSR Full Report | Available |
| December 2020 MSR Outboard Engines | Available |
| December 2020 MSR Personal Watercraft | Available |
| December 2020 MSR Jet Boats | Available |
| December 2020 MSR Aluminum Outboard Boats | Available |
| December 2020 MSR Fiberglass Outboard Boats | Available |
| December 2020 MSR Fiberglass Sterndrive Boats | Available |
| December 2020 MSR Inboard Boats | Available |
| December 2020 MSR Boat Trailers | Available |
| December 2020 MSR Inflatables | Available |
2019
January
| | |
| --- | --- |
| | |
| January 2019 MSR Full Report | Available |
| January 2019 MSR Full Report | Available |
| January 2019 MSR Outboard Engine | Available |
| January 2019 MSR Personal Watercraft | Available |
| January 2019 MSR Jet Boat | Available |
| January 2019 MSR Aluminum Outboard Boats | Available |
| January 2019 MSR Fiberglass Outboard Boats | Available |
| January 2019 MSR Fiberglass Sterndrive Boats | Available |
| January 2019 MSR Inboard Boats | Available |
| January 2019 MSR Boat Trailers | Available |
February
| | |
| --- | --- |
| | |
| February 2019 MSR Full Report | Available |
| February 2019 MSR Full Report | Available |
| February 2019 MSR Outboard Engine | Available |
| February 2019 MSR Personal Watercraft | Available |
| February 2019 MSR Jet Boat | Available |
| February 2019 MSR Aluminum Outboard Boats | Available |
| February 2019 MSR Fiberglass Outboard Boats | Available |
| February 2019 MSR Fiberglass Sterndrive Boats | Available |
| February 2019 MSR Inboard Boats | Available |
| February 2019 MSR Boat Trailers | Available |
March
| | |
| --- | --- |
| | |
| March 2019 MSR Full Report | Available |
| March 2019 MSR Full Report | Available |
| March 2019 MSR Outboard Engine | Available |
| March 2019 MSR Personal Watercraft | Available |
| March 2019 MSR Jet Boat | Available |
| March 2019 MSR Aluminum Outboard Boats | Available |
| March 2019 MSR Fiberglass Outboard Boats | Available |
| March 2019 MSR Fiberglass Sterndrive Boats | Available |
| March 2019 MSR Inboard Boats | Available |
| March 2019 MSR Boat Trailers | Available |
April
| | |
| --- | --- |
| | |
| April 2019 MSR Full Report | Available |
| April 2019 MSR Full Report | Available |
| April 2019 MSR Outboard Engine | Available |
| April 2019 MSR Personal Watercraft | Available |
| April 2019 MSR Jet Boat | Available |
| April 2019 MSR Aluminum Outboard Boats | Available |
| April 2019 MSR Fiberglass Outboard Boats | Available |
| April 2019 MSR Fiberglass Sterndrive Boats | Available |
| April 2019 MSR Inboard Boats | Available |
| April 2019 MSR Boat Trailers | Available |
May
| | |
| --- | --- |
| | |
| May 2019 MSR Full Report | Available |
| May 2019 MSR Full Report | Available |
| May 2019 MSR Outboard Engine | Available |
| May 2019 MSR Personal Watercraft | Available |
| May 2019 MSR Jet Boat | Available |
| May 2019 MSR Aluminum Outboard Boats | Available |
| May 2019 MSR Fiberglass Outboard Boats | Available |
| May 2019 MSR Fiberglass Sterndrive Boats | Available |
| May 2019 MSR Inboard Boats | Available |
| May 2019 MSR Boat Trailers | Available |
June
| | |
| --- | --- |
| | |
| June 2019 MSR Full Report | Available |
| June 2019 MSR Full Report | Available |
| June 2019 MSR Outboard Engine | Available |
| June 2019 MSR Personal Watercraft | Available |
| June 2019 MSR Jet Boat | Available |
| June 2019 MSR Aluminum Outboard Boats | Available |
| June 2019 MSR Fiberglass Outboard Boats | Available |
| June 2019 MSR Fiberglass Sterndrive Boats | Available |
| June 2019 MSR Inboard Boats | Available |
| June 2019 MSR Boat Trailers | Available |
July
| | |
| --- | --- |
| | |
| July 2019 MSR Full Report | Available |
| July 2019 MSR Full Report | Available |
| July 2019 MSR Outboard Engine | Available |
| July 2019 MSR Personal Watercraft | Available |
| July 2019 MSR Jet Boat | Available |
| July 2019 MSR Aluminum Outboard Boats | Available |
| July 2019 MSR Fiberglass Outboard Boats | Available |
| July 2019 MSR Fiberglass Sterndrive Boats | Available |
| July 2019 MSR Inboard Boats | Available |
| July 2019 MSR Boat Trailers | Available |
August
| | |
| --- | --- |
| | |
| August 2019 MSR Full Report | Available |
| August 2019 MSR Full Report | Available |
| August 2019 MSR Outboard Engine | Available |
| August 2019 MSR Personal Watercraft | Available |
| August 2019 MSR Jet Boat | Available |
| August 2019 MSR Aluminum Outboard Boats | Available |
| August 2019 MSR Fiberglass Outboard Boats | Available |
| August 2019 MSR Fiberglass Sterndrive Boats | Available |
| August 2019 MSR Inboard Boats | Available |
| August 2019 MSR Boat Trailers | Available |
September
| | |
| --- | --- |
| | |
| September 2019 MSR Full Report | Available |
| September 2019 MSR Full Report | Available |
| September 2019 MSR Outboard Engine | Available |
| September 2019 MSR Personal Watercraft | Available |
| September 2019 MSR Jet Boat | Available |
| September 2019 MSR Aluminum Outboard Boats | Available |
| September 2019 MSR Fiberglass Outboard Boats | Available |
| September 2019 MSR Fiberglass Sterndrive Boats | Available |
| September 2019 MSR Inboard Boats | Available |
| September 2019 MSR Boat Trailers | Available |
October
| | |
| --- | --- |
| | |
| October 2019 MSR Full Report | Available |
| October 2019 MSR Full Report | Available |
| October 2019 MSR Outboard Engines | Available |
| October 2019 MSR Personal Watercraft | Available |
| October 2019 MSR Jet Boat | Available |
| October 2019 MSR Aluminum Outboard Boats | Available |
| October 2019 MSR Fiberglass Outboard Boats | Available |
| October 2019 MSR Fiberglass Sterndrive Boats | Available |
| October 2019 MSR Inboard Boats | Available |
| October 2019 MSR Boat Trailers | Available |
November
| | |
| --- | --- |
| | |
| November 2019 MSR Full Report | Available |
| November 2019 MSR Full Report | Available |
| November 2019 MSR Outboard Engines | Available |
| November 2019 MSR Personal Watercraft | Available |
| November 2019 MSR Jet Boat | Available |
| November 2019 MSR Aluminum Outboard Boats | Available |
| November 2019 MSR Fiberglass Outboard Boats | Available |
| November 2019 MSR Fiberglass Sterndrive Boats | Available |
| November 2019 MSR Inboard Boats | Available |
| November 2019 MSR Boat Trailers | Available |
December
| | |
| --- | --- |
| | |
| December 2019 MSR Full Report | Available |
| December 2019 MSR Full Report | Available |
| December 2019 MSR Outboard Engines | Available |
| December 2019 MSR Personal Watercraft | Available |
| December 2019 MSR Jet Boat | Available |
| December 2019 MSR Aluminum Outboard Boats | Available |
| December 2019 MSR Fiberglass Outboard Boats | Available |
| December 2019 MSR Fiberglass Sterndrive Boats | Available |
| December 2019 MSR Inboard Boats | Available |
| December 2019 MSR Boat Trailers | Available |
2018
January
| | |
| --- | --- |
| | |
| January 2018 MSR Full Report | Available |
| January 2018 MSR Full Report | Available |
| January 2018 MSR Outboard Engine | Available |
| January 2018 MSR Personal Watercraft | Available |
| January 2018 MSR Jet Boat | Available |
| January 2018 MSR Aluminum Outboard Boats | Available |
| January 2018 MSR Fiberglass Outboard Boats | Available |
| January 2018 MSR Fiberglass Sterndrive Boats | Available |
| January 2018 MSR Inboard Boats | Available |
| January 2018 MSR Trailers | Available |
February
| | |
| --- | --- |
| | |
| February 2018 MSR Full Report | Available |
| February 2018 MSR Full Report | Available |
| February 2018 MSR Outboard Engine | Available |
| February 2018 MSR Personal Watercraft | Available |
| February 2018 MSR Jet Boat | Available |
| February 2018 MSR Aluminum Outboard Boats | Available |
| February 2018 MSR Fiberglass Outboard Boats | Available |
| February 2018 MSR Fiberglass Sterndrive Boats | Available |
| February 2018 MSR Inboard Boats | Available |
| February 2018 MSR Trailers | Available |
March
| | |
| --- | --- |
| | |
| March 2018 MSR Full Report | Available |
| March 2018 MSR Full Report | Available |
| March 2018 MSR Outboard Engine | Available |
| March 2018 MSR Personal Watercraft | Available |
| March 2018 MSR Jet Boat | Available |
| March 2018 MSR Aluminum Outboard Boats | Available |
| March 2018 MSR Fiberglass Outboard Boats | Available |
| March 2018 MSR Fiberglass Sterndrive Boats | Available |
| March 2018 MSR Inboard Boats | Available |
| March 2018 MSR Trailers | Available |
April
| | |
| --- | --- |
| | |
| April 2018 MSR Full Report | Available |
| April 2018 MSR Full Report | Available |
| April 2018 MSR Outboard Engine | Available |
| April 2018 MSR Personal Watercraft | Available |
| April 2018 MSR Jet Boat | Available |
| April 2018 MSR Aluminum Outboard Boats | Available |
| April 2018 MSR Fiberglass Outboard Boats | Available |
| April MSR Fiberglass Sterndrive Boats | Available |
| April 2018 MSR Inboard Boats | Available |
| April 2018 MSR Trailers | Available |
May
| | |
| --- | --- |
| | |
| May 2018 MSR Full Report | Available |
| May 2018 MSR Full Report | Available |
| May 2018 MSR Outboard Engine | Available |
| May 2018 MSR Personal Watercraft | Available |
| May 2018 MSR Jet Boat | Available |
| May 2018 MSR Aluminum Outboard Boats | Available |
| May 2018 MSR Fiberglass Outboard Boats | Available |
| May 2018 MSR Fiberglass Sterndrive Boats | Available |
| May 2018 MSR Inboard Boats | Available |
| May 2018 MSR Trailers | Available |
June
| | |
| --- | --- |
| | |
| June 2018 MSR Full Report | Available |
| June 2018 MSR Full Report | Available |
| June 2018 MSR Outboard Engine | Available |
| June 2018 MSR Personal Watercraft | Available |
| June 2018 MSR Jet Boat | Available |
| June 2018 MSR Aluminum Outboard Boats | Available |
| June 2018 MSR Fiberglass Outboard Boats | Available |
| June 2018 MSR Fiberglass Sterndrive Boats | Available |
| June 2018 MSR Inboard Boats | Available |
| June 2018 MSR Trailers | Available |
July
| | |
| --- | --- |
| | |
| July 2018 MSR Full Report | Available |
| July 2018 MSR Full Report | Available |
| July 2018 MSR Outboard Engine | Available |
| July 2018 MSR Personal Watercraft | Available |
| July 2018 MSR Jet Boat | Available |
| July 2018 MSR Aluminum Outboard Boats | Available |
| July 2018 MSR Fiberglass Outboard Boats | Available |
| July 2018 MSR Fiberglass Sterndrive Boats | Available |
| July 2018 MSR Inboard Boats | Available |
| July 2018 MSR Trailers | Available |
August
| | |
| --- | --- |
| | |
| August 2018 MSR Full Report | Available |
| August 2018 MSR Full Report | Available |
| August 2018 MSR Outboard Engine | Available |
| August 2018 MSR Personal Watercraft | Available |
| August 2018 MSR Jet Boat | Available |
| August 2018 MSR Aluminum Outboard Boats | Available |
| August 2018 MSR Fiberglass Outboard Boats | Available |
| August 2018 MSR Fiberglass Sterndrive Boats | Available |
| August 2018 MSR Inboard Boats | Available |
| August 2018 MSR Trailers | Available |
September
| | |
| --- | --- |
| | |
| September 2018 MSR Full Report | Available |
| September 2018 MSR Full Report | Available |
| September 2018 MSR Outboard Engine | Available |
| September 2018 MSR Personal Watercraft | Available |
| September 2018 MSR Jet Boat | Available |
| September 2018 MSR Aluminum Outboard Boats | Available |
| September 2018 MSR Fiberglass Outboard Boats | Available |
| September 2018 MSR Fiberglass Sterndrive Boats | Available |
| September 2018 MSR Inboard Boats | Available |
| September 2018 MSR Trailers | Available |
October
| | |
| --- | --- |
| | |
| October 2018 MSR Full Report | Available |
| October 2018 MSR Full Report | Available |
| October 2018 MSR Outboard Engine | Available |
| October 2018 MSR Personal Watercraft | Available |
| October 2018 MSR Jet Boat | Available |
| October 2018 MSR Aluminum Outboard Boats | Available |
| October 2018 MSR Fiberglass Outboard Boats | Available |
| October 2018 MSR Fiberglass Sterndrive Boats | Available |
| October 2018 MSR Inboard Boats | Available |
| October 2018 MSR Trailers | Available |
November
| | |
| --- | --- |
| | |
| November 2018 MSR Full Report | Available |
| November 2018 MSR Full Report | Available |
| November 2018 MSR Outboard Engine | Available |
| November 2018 MSR Personal Watercraft | Available |
| November 2018 MSR Jet Boat | Available |
| November 2018 MSR Aluminum Outboard Boats | Available |
| November 2018 MSR Fiberglass Outboard Boats | Available |
| November 2018 MSR Fiberglass Sterndrive Boats | Available |
| November 2018 MSR Inboard Boats | Available |
| November 2018 MSR Trailers | Available |
December
| | |
| --- | --- |
| | |
| December 2018 MSR Full Report | Available |
| December 2018 MSR Full Report | Available |
| December 2018 MSR Outboard Engine | Available |
| December 2018 MSR Personal Watercraft | Available |
| December 2018 MSR Jet Boat | Available |
| December 2018 MSR Aluminum Outboard Boats | Available |
| December 2018 MSR Fiberglass Outboard Boats | Available |
| December 2018 MSR Fiberglass Sterndrive Boats | Available |
| December 2018 MSR Inboard Boats | Available |
| December 2018 MSR Trailers | Available |
2017
January
| | |
| --- | --- |
| | |
| January 2017 MSR Full Report | Available |
| January 2017 MSR Full Report | Available |
| January 2017 MSR Outboard Engines | Available |
| January 2017 MSR Personal Watercraft | Available |
| January 2017 MSR Aluminum Outboard Boats | Available |
| January 2017 MSR Fiberglass Outboard Boats | Available |
| January 2017 MSR Fiberglass Sterndrive Boats | Available |
| January 2017 MSR Inboard Boats | Available |
| January 2017 MSR Jet Boats | Available |
| January 2017 MSR Inflatable Boats | Available |
| January MSR Trailers | Available |
February
| | |
| --- | --- |
| | |
| February 2017 MSR Full Report | Available |
| February 2017 MSR Full Report | Available |
| February 2017 MSR Outboard Engines | Available |
| February 2017 MSR Personal Watercraft | Available |
| February 2017 MSR Jet Boats | Available |
| February 2017 MSR Aluminum Outboard Boats | Available |
| February 2017 MSR Fiberglass Outboard Boats | Available |
| February 2017 MSR Fiberglass Sterndrive Boats | Available |
| February 2017 MSR Inboard Boats | Available |
| February 2017 MSR Inflatable Boats | Available |
| February MSR Trailers | Available |
March
| | |
| --- | --- |
| | |
| March 2017 MSR Full Report | Available |
| March 2017 MSR Full Report | Available |
| March 2017 MSR Outboard Engines | Available |
| March 2017 MSR Personal Watercraft | Available |
| March 2017 MSR Jet Boats | Available |
| March 2017 MSR Aluminum Outboard Boats | Available |
| March 2017 MSR Fiberglass Outboard Boats | Available |
| March 2017 MSR Fiberglass Sterndrive Boats | Available |
| March 2017 MSR Inboard Boats | Available |
| March 2017 MSR Inflatable Boats | Available |
| March MSR Trailers | Available |
April
| | |
| --- | --- |
| | |
| April 2017 MSR Full Report | Available |
| April 2017 MSR Full Report | Available |
| April 2017 MSR Outboard Engines | Available |
| April 2017 MSR Personal Watercraft | Available |
| April 2017 MSR Jet Boats | Available |
| April 2017 MSR Aluminum Outboard Boats | Available |
| April 2017 MSR Fiberglass Outboard Boats | Available |
| April 2017 MSR Fiberglass Sterndrive Boats | Available |
| April 2017 MSR Inboard Boats | Available |
| April 2017 MSR Inflatable Boats | Available |
| April MSR Trailers | Available |
May
| | |
| --- | --- |
| | |
| May 2017 MSR Full Report | Available |
| May 2017 MSR Full Report | Available |
| May 2017 MSR Outboard Engine | Available |
| May 2017 MSR Personal Watercraft | Available |
| May 2017 MSR Jet Boats | Available |
| May 2017 MSR Aluminum Outboard Boats | Available |
| May 2017 MSR Fiberglass Outboard Boats | Available |
| May 2017 MSR Fiberglass Sterndrive Boats | Available |
| May 2017 MSR Inboard Boats | Available |
| May 2017 MSR Inflatable Boats | Available |
| May MSR Trailers | Available |
June
| | |
| --- | --- |
| | |
| June 2017 MSR Full Report | Available |
| June 2017 MSR Full Report | Available |
| June 2017 MSR Outboard Engines | Available |
| June 2017 MSR Personal Watercraft | Available |
| June 2017 MSR Jet Boats | Available |
| June 2017 MSR Aluminum Outboard Boats | Available |
| June 2017 MSR Fiberglass Outboard Boats | Available |
| June 2017 MSR Fiberglass Sterndrive Boats | Available |
| June 2017 MSR Inboard Boats | Available |
| June 2017 MSR Inflatable Boats | Available |
| June MSR Trailers | Available |
July
| | |
| --- | --- |
| | |
| July 2017 MSR Full Report | Available |
| July 2017 MSR Full Report | Available |
| July 2017 MSR Outboard Engines | Available |
| July 2017 MSR Personal Watercraft | Available |
| July 2017 MSR Jet Boats | Available |
| July 2017 MSR Aluminum Outboard Boats | Available |
| July 2017 MSR Fiberglass Outboard Boats | Available |
| July 2017 MSR Fiberglass Sterndrive Boats | Available |
| July 2017 MSR Inboard Boats | Available |
| July 2017 MSR Inflatable Boats | Available |
| July MSR Trailers | Available |
August
| | |
| --- | --- |
| | |
| August 2017 MSR Full Report | Available |
| August 2017 MSR Full Report | Available |
| August 2017 MSR Outboard Engines | Available |
| August 2017 MSR Personal Watercraft | Available |
| August 2017 MSR Jet Boat | Available |
| August 2017 MSR Aluminum Outboard Boats | Available |
| August 2017 MSR Fiberglass Outboard Boats | Available |
| August 2017 MSR Fiberglass Sterndrive Boats | Available |
| August 2017 MSR Inboard Boats | Available |
| August 2017 MSR Inflatable Boats | Available |
| August MSR Trailers | Available |
September
| | |
| --- | --- |
| | |
| September 2017 MSR Full Report | Available |
| September 2017 MSR Full Report | Available |
| September 2017 MSR Outboard Engines | Available |
| September 2017 MSR Personal Watercraft | Available |
| September 2017 MSR Jet Boat | Available |
| September 2017 MSR Aluminum Outboard Boats | Available |
| September 2017 MSR Fiberglass Outboard Boats | Available |
| September 2017 MSR Fiberglass Sterndrive Boats | Available |
| September 2017 MSR Inboard Boats | Available |
| September 2017 MSR Inflatable Boats | Available |
| September MSR Trailers | Available |
October
| | |
| --- | --- |
| | |
| October 2017 MSR Full Report | Available |
| October 2017 MSR Full Report | Available |
| October 2017 MSR Outboard Engine | Available |
| October 2017 MSR Personal Watercraft | Available |
| October 2017 MSR Jet Boats | Available |
| October 2017 MSR Aluminum Outboard Boats | Available |
| October 2017 MSR Fiberglass Outboard Boats | Available |
| October 2017 MSR Fiberglass Sterndrive Boats | Available |
| October 2017 MSR Inboard Boats | Available |
| October 2017 MSR Inflatable Boats | Available |
| October MSR Trailers | Available |
November
| | |
| --- | --- |
| | |
| November 2017 MSR Full Report | Available |
| November 2017 MSR Full Report | Available |
| November 2017 MSR Outboard Engine | Available |
| November 2017 MSR Personal Watercraft | Available |
| November 2017 MSR Jet Boats | Available |
| November 2017 MSR Aluminum Outboard Boats | Available |
| November 2017 MSR Fiberglass Outboard Boats | Available |
| November 2017 MSR Fiberglass Sterndrive Boats | Available |
| November 2017 MSR Inboard Boats | Available |
| November MSR Trailers | Available |
December
| | |
| --- | --- |
| | |
| December 2017 MSR Full Report | Available |
| December 2017 MSR Full Report | Available |
| December 2017 MSR Outboard Engine | Available |
| December 2017 MSR Personal Watercraft | Available |
| December 2017 MSR Jet Boats | Available |
| December 2017 MSR Aluminum Outboard Boats | Available |
| December 2017 MSR Fiberglass Outboard Boats | Available |
| December 2017 MSR Fiberglass Sterndrive Boats | Available |
| December 2017 MSR Inboard Boats | Available |
| December MSR Trailers | Available |
2016
January
| | |
| --- | --- |
| | |
| January 2016 MSR | Available |
| January 2016 MSR | Available |
February
| | |
| --- | --- |
| | |
| February 2016 MSR | Available |
| February 2016 MSR | Available |
March
| | |
| --- | --- |
| | |
| March 2016 MSR | Available |
| March 2016 MSR | Available |
April
| | |
| --- | --- |
| | |
| April 2016 MSR | Available |
| April 2016 MSR | Available |
May
| | |
| --- | --- |
| | |
| May 2016 MSR | Available |
| May 2016 MSR | Available |
June
| | |
| --- | --- |
| | |
| June 2016 MSR | Available |
| June 2016 MSR | Available |
July
| | |
| --- | --- |
| | |
| July 2016 MSR Full Report | Available |
| July 2016 MSR Full Report | Available |
| July 2016 MSR Outboard Engines | Available |
| July 2016 MSR Personal Watercraft | Available |
| July 2016 MSR Jet Boats | Available |
| July 2016 MSR Aluminum Outboard Boats | Available |
| July 2016 MSR Fiberglass Outboard Boats | Available |
| July 2016 MSR Fiberglass Sterndrive Boats | Available |
| July 2016 MSR Inboard Boats | Available |
| July 2016 MSR Inflatable Boats | Available |
| July 2016 MSR Trailers | Available |
August
| | |
| --- | --- |
| | |
| August 2016 MSR Full Report | Available |
| August 2016 MSR Full Report | Available |
| August 2016 MSR Outboard Engines | Available |
| August 2016 MSR Personal Watercraft | Available |
| August 2016 MSR Jet Boats | Available |
| August 2016 MSR Aluminum Outboard Boat | Available |
| August 2016 MSR Fiberglass Outboard Boats | Available |
| August 2016 MSR Fiberglass Sterndrive Boats | Available |
| August 2016 MSR Inboard Boats | Available |
| August 2016 MSR Inflatable Boats | Available |
| August 2016 MSR Trailers | Available |
September
| | |
| --- | --- |
| | |
| September 2016 MSR Full Report | Available |
| September 2016 MSR Full Report | Available |
| September 2016 MSR Outboard Engines | Available |
| September 2016 MSR Personal Watercraft | Available |
| September 2016 MSR Jet Boats | Available |
| September 2016 MSR Aluminum Outboard Boats | Available |
| September 2016 MSR Fiberglass Outboard Boats | Available |
| September 2016 MSR Fiberglass Sterndrive Boats | Available |
| September 2016 MSR Inboard Boats | Available |
| September 2016 MSR Inflatable Boats | Available |
| September 2016 MSR Trailers | Available |
October
| | |
| --- | --- |
| | |
| October 2016 MSR Full Report | Available |
| October 2016 MSR Full Report | Available |
| October 2016 MSR Outboard Engines | Available |
| October 2016 MSR Personal Watercraft | Available |
| October 2016 MSR Jet Boats | Available |
| October 2016 MSR Aluminum Outboard Boats | Available |
| October 2016 MSR Fiberglass Outboard Boats | Available |
| October 2016 MSR Fiberglass Sterndrive Boats | Available |
| October 2016 MSR Inboard Boats | Available |
| October 2016 MSR Inflatable Boats | Available |
| October 2016 MSR Trailers | Available |
November
| | |
| --- | --- |
| | |
| November 2016 MSR Full Report | Available |
| November 2016 MSR Full Report | Available |
| November 2016 MSR Outboard Engines | Available |
| November 2016 MSR Personal Watercraft | Available |
| November 2016 MSR Jet Boats | Available |
| November 2016 MSR Aluminum Outboard Boats | Available |
| November 2016 MSR Fiberglass Outboard Boats | Available |
| November 2016 MSR Fiberglass Sterndrive Boats | Available |
| November 2016 MSR Inboard Boats | Available |
| November 2016 MSR Inflatable Boats | Available |
| November 2016 MSR Trailers | Available |
December
| | |
| --- | --- |
| | |
| December 2016 MSR Full Report | Available |
| December 2016 MSR Full Report | Available |
| December 2016 MSR Outboard Engines | Available |
| December 2016 MSR Personal Watercraft | Available |
| December 2016 MSR Jet Boats | Available |
| December 2016 MSR Aluminum Outboard Boats | Available |
| December 2016 MSR Fiberglass Outboard Boats | Available |
| December 2016 MSR Fiberglass Sterndrive Boats | Available |
| December 2016 MSR Inboard Boats | Available |
| December 2016 MSR Inflatable Boats | Available |
| December 2016 MSR Trailers | Available |
2015
January
| | |
| --- | --- |
| | |
| January 2015 MSR | Available |
| January 2015 MSR | Available |
February
| | |
| --- | --- |
| | |
| February 2015 MSR | Available |
| February 2015 MSR | Available |
March
| | |
| --- | --- |
| | |
| March 2015 MSR | Available |
| March 2015 MSR | Available |
April
| | |
| --- | --- |
| | |
| April 2015 MSR | Available |
| April 2015 MSR | Available |
May
| | |
| --- | --- |
| | |
| May 2015 MSR | Available |
| May 2015 MSR | Available |
June
| | |
| --- | --- |
| | |
| June 2015 MSR | Available |
| June 2015 MSR | Available |
July
| | |
| --- | --- |
| | |
| July 2015 MSR | Available |
| July 2015 MSR | Available |
August
| | |
| --- | --- |
| | |
| August 2015 MSR | Available |
| August 2015 MSR | Available |
September
| | |
| --- | --- |
| | |
| September 2015 MSR | Available |
| September 2015 MSR | Available |
October
| | |
| --- | --- |
| | |
| October 2015 MSR | Available |
| October 2015 MSR | Available |
November
| | |
| --- | --- |
| | |
| November 2015 MSR | Available |
| November 2015 MSR | Available |
December
| | |
| --- | --- |
| | |
| December 2015 MSR | Available |
| December 2015 MSR | Available |
2014
January
| | |
| --- | --- |
| | |
| January 2014 MSR | Available |
| January 2014 MSR | Available |
February
| | |
| --- | --- |
| | |
| February 2014 MSR | Available |
| February 2014 MSR | Available |
March
| | |
| --- | --- |
| | |
| March 2014 MSR | Available |
| March 2014 MSR | Available |
April
| | |
| --- | --- |
| | |
| April 2014 MSR | Available |
| April 2014 MSR | Available |
May
| | |
| --- | --- |
| | |
| May 2014 MSR | Available |
| May 2014 MSR | Available |
June
| | |
| --- | --- |
| | |
| June 2014 MSR | Available |
| June 2014 MSR | Available |
July
| | |
| --- | --- |
| | |
| July 2014 MSR | Available |
| July 2014 MSR | Available |
August
| | |
| --- | --- |
| | |
| August 2014 MSR | Available |
| August 2014 MSR | Available |
September
| | |
| --- | --- |
| | |
| September 2014 MSR | Available |
| September 2014 MSR | Available |
October
| | |
| --- | --- |
| | |
| October 2014 MSR | Available |
| October 2014 MSR | Available |
November
| | |
| --- | --- |
| | |
| November 2014 MSR | Available |
| November 2014 MSR | Available |
December
| | |
| --- | --- |
| | |
| December 2014 MSR | Available |
| December 2014 MSR | Available |
2013
January
| | |
| --- | --- |
| | |
| January 2013 MSR | Available |
| January 2013 MSR | Available |
February
| | |
| --- | --- |
| | |
| February 2013 MSR | Available |
| February 2013 MSR | Available |
March
| | |
| --- | --- |
| | |
| March 2013 MSR | Available |
| March 2013 MSR | Available |
April
| | |
| --- | --- |
| | |
| April 2013 MSR | Available |
| April 2013 MSR | Available |
May
| | |
| --- | --- |
| | |
| May 2013 MSR | Available |
| May 2013 MSR | Available |
June
| | |
| --- | --- |
| | |
| June 2013 MSR | Available |
| June 2013 MSR | Available |
July
| | |
| --- | --- |
| | |
| July 2013 MSR | Available |
| July 2013 MSR | Available |
August
| | |
| --- | --- |
| | |
| August 2013 MSR | Available |
| August 2013 MSR | Available |
September
| | |
| --- | --- |
| | |
| September 2013 MSR | Available |
| September 2013 MSR | Available |
October
| | |
| --- | --- |
| | |
| October 2013 MSR | Available |
| October 2013 MSR | Available |
November
| | |
| --- | --- |
| | |
| November 2013 MSR | Available |
| November 2013 MSR | Available |
December
| | |
| --- | --- |
| | |
| December 2013 MSR | Available |
| December 2013 MSR | Available |
2012
January
| | |
| --- | --- |
| | |
| January 2012 MSR | Available |
| January 2012 MSR | Available |
February
| | |
| --- | --- |
| | |
| February 2012 MSR | Available |
| February 2012 MSR | Available |
March
| | |
| --- | --- |
| | |
| March 2012 MSR | Available |
| March 2012 MSR | Available |
April
| | |
| --- | --- |
| | |
| April 2012 MSR | Available |
| April 2012 MSR | Available |
May
| | |
| --- | --- |
| | |
| May 2012 MSR | Available |
| May 2012 MSR | Available |
June
| | |
| --- | --- |
| | |
| June 2012 MSR | Available |
| June 2012 MSR | Available |
July
| | |
| --- | --- |
| | |
| July 2012 MSR | Available |
| July 2012 MSR | Available |
August
| | |
| --- | --- |
| | |
| August 2012 MSR | Available |
| August 2012 MSR | Available |
September
| | |
| --- | --- |
| | |
| September 2012 MSR | Available |
| September 2012 MSR | Available |
October
| | |
| --- | --- |
| | |
| October 2012 MSR | Available |
| October 2012 MSR | Available |
November
| | |
| --- | --- |
| | |
| November 2012 MSR | Available |
| November 2012 MSR | Available |
December
| | |
| --- | --- |
| | |
| December 2012 MSR | Available |
| December 2012 MSR | Available |
2011
January
| | |
| --- | --- |
| | |
| January 2011 MSR | Available |
| January 2011 MSR | Available |
February
| | |
| --- | --- |
| | |
| February 2011 MSR | Available |
| February 2011 MSR | Available |
March
| | |
| --- | --- |
| | |
| March 2011 MSR | Available |
| March 2011 MSR | Available |
April
| | |
| --- | --- |
| | |
| April 2011 MSR | Available |
| April 2011 MSR | Available |
May
| | |
| --- | --- |
| | |
| May 2011 MSR | Available |
| May 2011 MSR | Available |
June
| | |
| --- | --- |
| | |
| June 2011 MSR | Available |
| June 2011 MSR | Available |
July
| | |
| --- | --- |
| | |
| July 2011 MSR | Available |
| July 2011 MSR | Available |
August
| | |
| --- | --- |
| | |
| August 2011 MSR | Available |
| August 2011 MSR | Available |
September
| | |
| --- | --- |
| | |
| September 2011 MSR | Available |
| September 2011 MSR | Available |
October
| | |
| --- | --- |
| | |
| October 2011 MSR | Available |
| October 2011 MSR | Available |
November
| | |
| --- | --- |
| | |
| November 2011 MSR | Available |
| November 2011 MSR | Available |
December
| | |
| --- | --- |
| | |
| December 2011 MSR | Available |
| December 2011 MSR | Available |
2010
January
| | |
| --- | --- |
| | |
| January 2010 MSR | Available |
| January 2010 MSR | Available |
February
| | |
| --- | --- |
| | |
| February 2010 MSR | Available |
| February 2010 MSR | Available |
March
| | |
| --- | --- |
| | |
| March 2010 MSR | Available |
| March 2010 MSR | Available |
April
| | |
| --- | --- |
| | |
| April 2010 MSR | Available |
| April 2010 MSR | Available |
May
| | |
| --- | --- |
| | |
| May 2010 MSR | Available |
| May 2010 MSR | Available |
June
| | |
| --- | --- |
| | |
| June 2010 MSR | Available |
| June 2010 MSR | Available |
July
| | |
| --- | --- |
| | |
| July 2010 MSR | Available |
| July 2010 MSR | Available |
August
| | |
| --- | --- |
| | |
| August 2010 MSR | Available |
| August 2010 MSR | Available |
September
| | |
| --- | --- |
| | |
| September 2010 MSR | Available |
| September 2010 MSR | Available |
October
| | |
| --- | --- |
| | |
| October 2010 MSR | Available |
| October 2010 MSR | Available |
November
| | |
| --- | --- |
| | |
| November 2010 MSR | Available |
| November 2010 MSR | Available |
December
| | |
| --- | --- |
| | |
| December 2010 MSR | Available |
| December 2010 MSR | Available |
2009
January
| | |
| --- | --- |
| | |
| January 2009 MSR | Available |
| January 2009 MSR | Available |
February
| | |
| --- | --- |
| | |
| February 2009 MSR | Available |
| February 2009 MSR | Available |
March
| | |
| --- | --- |
| | |
| March 2009 MSR | Available |
| March 2009 MSR | Available |
April
| | |
| --- | --- |
| | |
| April 2009 MSR | Available |
| April 2009 MSR | Available |
May
| | |
| --- | --- |
| | |
| May 2009 MSR | Available |
| May 2009 MSR | Available |
June
| | |
| --- | --- |
| | |
| June 2009 MSR | Available |
| June 2009 MSR | Available |
July
| | |
| --- | --- |
| | |
| July 2009 MSR | Available |
| July 2009 MSR | Available |
August
| | |
| --- | --- |
| | |
| August 2009 MSR | Available |
| August 2009 MSR | Available |
September
| | |
| --- | --- |
| | |
| September 2009 MSR | Available |
| September 2009 MSR | Available |
October
| | |
| --- | --- |
| | |
| October 2009 MSR | Available |
| October 2009 MSR | Available |
November
| | |
| --- | --- |
| | |
| November 2009 MSR | Available |
| November 2009 MSR | Available |
December
| | |
| --- | --- |
| | |
| December 2009 MSR | Available |
| December 2009 MSR | Available |
2008
January
| | |
| --- | --- |
| | |
| January 2008 MSR | Available |
| January 2008 MSR | Available |
February
| | |
| --- | --- |
| | |
| February 2008 MSR | Available |
| February 2008 MSR | Available |
March
| | |
| --- | --- |
| | |
| March 2008 MSR | Available |
| March 2008 MSR | Available |
April
| | |
| --- | --- |
| | |
| April 2008 MSR | Available |
| April 2008 MSR | Available |
May
| | |
| --- | --- |
| | |
| May 2008 MSR | Available |
| May 2008 MSR | Available |
June
| | |
| --- | --- |
| | |
| June 2008 MSR | Available |
| June 2008 MSR | Available |
July
| | |
| --- | --- |
| | |
| July 2008 MSR | Available |
| July 2008 MSR | Available |
August
| | |
| --- | --- |
| | |
| August 2008 MSR | Available |
| August 2008 MSR | Available |
September
| | |
| --- | --- |
| | |
| September 2008 MSR | Available |
| September 2008 MSR | Available |
October
| | |
| --- | --- |
| | |
| October 2008 MSR | Available |
| October 2008 MSR | Available |
November
| | |
| --- | --- |
| | |
| November 2008 MSR | Available |
| November 2008 MSR | Available |
December
| | |
| --- | --- |
| | |
| December 2008 MSR | Available |
| December 2008 MSR | Available |
2007
January
| | |
| --- | --- |
| | |
| January 2007 MSR | Available |
| January 2007 MSR | Available |
February
| | |
| --- | --- |
| | |
| February 2007 MSR | Available |
| February 2007 MSR | Available |
March
| | |
| --- | --- |
| | |
| March 2007 MSR | Available |
| March 2007 MSR | Available |
April
| | |
| --- | --- |
| | |
| April 2007 MSR | Available |
| April 2007 MSR | Available |
May
| | |
| --- | --- |
| | |
| May 2007 MSR | Available |
| May 2007 MSR | Available |
June
| | |
| --- | --- |
| | |
| June 2007 MSR | Available |
| June 2007 MSR | Available |
July
| | |
| --- | --- |
| | |
| July 2007 MSR | Available |
| July 2007 MSR | Available |
August
| | |
| --- | --- |
| | |
| August 2007 MSR | Available |
| August 2007 MSR | Available |
September
| | |
| --- | --- |
| | |
| September 2007 MSR | Available |
| September 2007 MSR | Available |
October
| | |
| --- | --- |
| | |
| October 2007 MSR | Available |
| October 2007 MSR | Available |
November
| | |
| --- | --- |
| | |
| November 2007 MSR | Available |
| November 2007 MSR | Available |
December
| | |
| --- | --- |
| | |
| December 2007 MSR | Available |
| December 2007 MSR | Available |
2006
January
| | |
| --- | --- |
| | |
| January 2006 MSR | Available |
| January 2006 MSR | Available |
February
| | |
| --- | --- |
| | |
| February 2006 MSR | Available |
| February 2006 MSR | Available |
March
| | |
| --- | --- |
| | |
| March 2006 MSR | Available |
| March 2006 MSR | Available |
April
| | |
| --- | --- |
| | |
| April 2006 MSR | Available |
| April 2006 MSR | Available |
May
| | |
| --- | --- |
| | |
| May 2006 MSR | Available |
| May 2006 MSR | Available |
June
| | |
| --- | --- |
| | |
| June 2006 MSR | Available |
| June 2006 MSR | Available |
July
| | |
| --- | --- |
| | |
| July 2006 MSR | Available |
| July 2006 MSR | Available |
August
| | |
| --- | --- |
| | |
| August 2006 MSR | Available |
| August 2006 MSR | Available |
September
| | |
| --- | --- |
| | |
| September 2006 MSR | Available |
| September 2006 MSR | Available |
October
| | |
| --- | --- |
| | |
| October 2006 MSR | Available |
| October 2006 MSR | Available |
November
| | |
| --- | --- |
| | |
| November 2006 MSR | Available |
| November 2006 MSR | Available |
December
| | |
| --- | --- |
| | |
| December 2006 MSR | Available |
| December 2006 MSR | Available |
2005
January
| | |
| --- | --- |
| | |
| January 2005 MSR | Available |
| January 2005 MSR | Available |
February
| | |
| --- | --- |
| | |
| February 2005 MSR | Available |
| February 2005 MSR | Available |
March
| | |
| --- | --- |
| | |
| March 2005 MSR | Available |
| March 2005 MSR | Available |
April
| | |
| --- | --- |
| | |
| April 2005 MSR | Available |
| April 2005 MSR | Available |
May
| | |
| --- | --- |
| | |
| May 2005 MSR | Available |
| May 2005 MSR | Available |
June
| | |
| --- | --- |
| | |
| June 2005 MSR | Available |
| June 2005 MSR | Available |
July
| | |
| --- | --- |
| | |
| July 2005 MSR | Available |
| July 2005 MSR | Available |
August
| | |
| --- | --- |
| | |
| August 2005 MSR | Available |
| August 2005 MSR | Available |
September
| | |
| --- | --- |
| | |
| September 2005 MSR | Available |
| September 2005 MSR | Available |
October
| | |
| --- | --- |
| | |
| October 2005 MSR | Available |
| October 2005 MSR | Available |
November
| | |
| --- | --- |
| | |
| November 2005 MSR | Available |
| November 2005 MSR | Available |
December
| | |
| --- | --- |
| | |
| December 2005 MSR | Available |
| December 2005 MSR | Available |
2004
January
| | |
| --- | --- |
| | |
| January 2004 MSR | Available |
| January 2004 MSR | Available |
February
| | |
| --- | --- |
| | |
| February 2004 MSR | Available |
| February 2004 MSR | Available |
March
| | |
| --- | --- |
| | |
| March 2004 MSR | Available |
| March 2004 MSR | Available |
April
| | |
| --- | --- |
| | |
| April 2004 MSR | Available |
| April 2004 MSR | Available |
May
| | |
| --- | --- |
| | |
| May 2004 MSR | Available |
| May 2004 MSR | Available |
June
| | |
| --- | --- |
| | |
| June 2004 MSR | Available |
| June 2004 MSR | Available |
July
| | |
| --- | --- |
| | |
| July 2004 MSR | Available |
| July 2004 MSR | Available |
August
| | |
| --- | --- |
| | |
| August 2004 MSR | Available |
| August 2004 MSR | Available |
September
| | |
| --- | --- |
| | |
| September 2004 MSR | Available |
| September 2004 MSR | Available |
October
| | |
| --- | --- |
| | |
| October 2004 MSR | Available |
| October 2004 MSR | Available |
November
| | |
| --- | --- |
| | |
| November 2004 MSR | Available |
| November 2004 MSR | Available |
December
| | |
| --- | --- |
| | |
| December 2004 MSR | Available |
| December 2004 MSR | Available |
2003
January
| | |
| --- | --- |
| | |
| January 2003 MSR | Available |
| January 2003 MSR | Available |
February
| | |
| --- | --- |
| | |
| February 2003 MSR | Available |
| February 2003 MSR | Available |
March
| | |
| --- | --- |
| | |
| March 2003 MSR | Available |
| March 2003 MSR | Available |
April
| | |
| --- | --- |
| | |
| April 2003 MSR | Available |
| April 2003 MSR | Available |
May
| | |
| --- | --- |
| | |
| May 2003 MSR | Available |
| May 2003 MSR | Available |
June
| | |
| --- | --- |
| | |
| June 2003 MSR | Available |
| June 2003 MSR | Available |
July
| | |
| --- | --- |
| | |
| July 2003 MSR | Available |
| July 2003 MSR | Available |
August
| | |
| --- | --- |
| | |
| August 2003 MSR | Available |
| August 2003 MSR | Available |
September
| | |
| --- | --- |
| | |
| September 2003 MSR | Available |
| September 2003 MSR | Available |
October
| | |
| --- | --- |
| | |
| October 2003 MSR | Available |
| October 2003 MSR | Available |
November
| | |
| --- | --- |
| | |
| November 2003 MSR | Available |
| November 2003 MSR | Available |
December
| | |
| --- | --- |
| | |
| December 2003 MSR | Available |
| December 2003 MSR | Available |
2002
January
| | |
| --- | --- |
| | |
| January 2002 MSR | Available |
February
| | |
| --- | --- |
| | |
| February 2002 MSR | Available |
March
April
May
June
July
August
| | |
| --- | --- |
| | |
| August 2002 MSR | Available |
September
| | |
| --- | --- |
| | |
| September 2002 MSR | Available |
October
| | |
| --- | --- |
| | |
| October 2002 MSR | Available |
November
| | |
| --- | --- |
| | |
| November 2002 MSR | Available |
December
| | |
| --- | --- |
| | |
| December 2002 MSR | Available |
2001
January
| | |
| --- | --- |
| | |
| January 2001 MSR | Available |
February
| | |
| --- | --- |
| | |
| February 2001 MSR | Available |
March
April
May
June
July
August
| | |
| --- | --- |
| | |
| August 2001 MSR | Available |
September
| | |
| --- | --- |
| | |
| September 2001 MSR | Available |
October
| | |
| --- | --- |
| | |
| October 2001 MSR | Available |
November
| | |
| --- | --- |
| | |
| November 2001 MSR | Available |
December
| | |
| --- | --- |
| | |
| December 2001 MSR | Available |
2000
January
| | |
| --- | --- |
| | |
| January 2000 MSR | Available |
February
| | |
| --- | --- |
| | |
| February 2000 MSR | Available |
March
April
May
June
July
August
| | |
| --- | --- |
| | |
| August 2000 MSR | Available |
September
| | |
| --- | --- |
| | |
| September 2000 MSR | Available |
October
| | |
| --- | --- |
| | |
| October 2000 MSR | Available |
November
| | |
| --- | --- |
| | |
| November 2000 MSR | Available |
December
| | |
| --- | --- |
| | |
| December 2000 MSR | Available |
1999
January
| | |
| --- | --- |
| | |
| January 1999 MSR | Available |
February
| | |
| --- | --- |
| | |
| February 1999 MSR | Available |
March
April
May
June
July
August
| | |
| --- | --- |
| | |
| August 1999 MSR | Available |
September
| | |
| --- | --- |
| | |
| September 1999 MSR | Available |
October
| | |
| --- | --- |
| | |
| October 1999 MSR | Available |
November
| | |
| --- | --- |
| | |
| November 1999 MSR | Available |
December
| | |
| --- | --- |
| | |
| December 1999 MSR | Available |