The Innovation Awards honor manufacturers and suppliers who bring new, innovative products for the boating industry to market.
NMMA partners with Boating Writers International (BWI) to provide knowledgeable and unbiased judges. Volunteer members of BWI (including editors, staff and freelance writers) bring a thorough working knowledge of boats and boating products, as well as general marine expertise, to the judging process.
Innovation Awards are presented at the Progressive® Insurance Minneapolis Boat Show®, the Progressive® Insurance Miami International Boat Show™ and the International Boat Builders' Exposition & Conference (IBEX).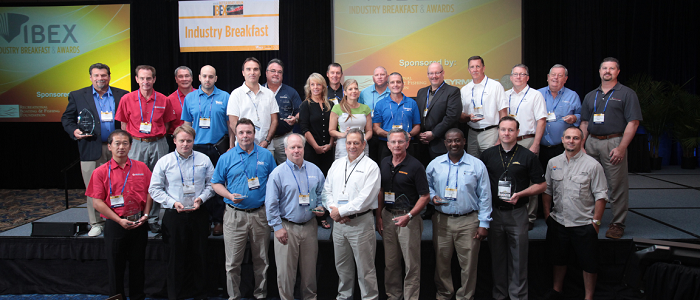 Judging Criteria
Marine suppliers are invited to enter their new products. To be eligible for an Innovation Award, products must meet the following:
Have innovative distinction from other products currently manufactured in the marine industry
Have substantial modification or adaptation to the marine market if the product is an extension from a non-marine or general market
Provide benefit to the marine industry and/or consumer
Provide practicality of use
Are cost-effective
Entry Guidlines
1.  Product must meet the following eligibility requirements:
Product must be on display in its finished, sellable state by the opening date of the show at which it is entered.
Product must not have been previously submitted for an Innovation Award at any other show.
Product must be sold and marketed or "shipping to market" by the opening date of the show at which it is entered or for sale to the public within 60 days after the ending date of the show. No concept products or prototypes will be considered.
Product cannot have been marketed or sold in the U.S. more than one year prior to being entered for an Innovation Award at any show. Review program Rules & Regulations for valid date.
All boats entered in the Innovation Awards must be NMMA Certified at time of entry.
Participation is limited to contracted companies exhibiting in the program's Show.
2.  Entry to the program is fulfilled when the following three steps have been completed:
Step One: Complete and submit entry form.
Step Two: Upload requested material to Dropbox folder including two-minute product video.
Step Three: Remit payment.
Products will not be accepted or considered after the program's entry deadline. Entries close one month before the show—exact dates highlighted within the program's Rules & Regulations.
3.  Entry Assistance: Product Category - Only one product category can be selected at the time of entry and should be represented by the basic functionality of the product. If you are uncertain about which category to enter, contact Rachel Harmon at NMMA, 312.946.6247.

4.  Judging Process: Each judge reviews the award entries before the show and s/he comes to the first meeting prepared to inspect the physical products.
Onsite judges' meetings: Meetings with entrants and product(s) will take place two days before the show opens. The meeting schedule may vary by show depending on the number of entries and show logistics. A representative must be available to provide a physical product and a concise description of the innovation and to answer technical questions during the inspections. This person must be available at the minimum, two days prior to the show open.
Deliberation: Once inspections of all products are complete, the judges meet again to deliberate and determine the winners. If no product in a given category is deemed innovative as described by the judging criteria, no award may be given in that category. If there are multiple products that are close competitors, an Honorable Mention may be awarded to a product that did not win. Honorable Mentions do not receive a trophy but recipients can promote their Honorable Mention status in their marketing materials. (Contact Rachel Harmon for details.)
5.  Winners are chosen by all judges working together. If you have questions about why your product did not win, please contact NMMA. The judges volunteer their time freely and are under no obligation to discuss the deliberation for any particular product/category.
---
For more information about the Innovation Awards, please contact:
Rachel Harmon
Project Manager, Consumer & Trade Events
312.946.6247