NMMA Releases a Behind the Scenes Digital Essay on Biobutanol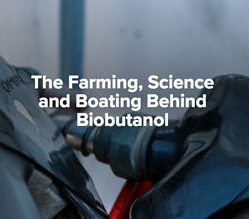 Last week, NMMA published a digital essay titled "The Farming, Science and Boating Behind Biobutanol" – an in-depth look into how biobutanol is produced and its advantages for recreational boating. The essay comes as sale of gasoline with 15 percent ethanol (E15) resumes and the Trump Administration considers expanding the sale of E15 year-round.
Click here to explore the digital essay: https://spark.adobe.com/page/uwjElzZhuAXKr/
For more information, please contact NMMA senior vice president of federal & legal affairs, Nicole Vasilaros, at nvasilaros@nmma.org, or NMMA director of federal government affairs, Mike Pasko, at mpasko@nmma.org.